V Co. and Friends met up last Saturday to celebrate the 23th birthday of our teammate Neth!
The non-soccer players met up at PS earlier to help Cock on the monumental task of choosing a farewell present for his "female friend". As usual, everybody came late and Cooty was the earliest.
The people who came earlier to help Cock were Spud, Bearz(not the present), Nic, Neth, Cooty, Akat and Elwin.
The rag-tag bunch of us strolled around PS following Cock on his search for the perfect gift. Finally, after making us follow him for 1 hour he settled on Build-A-Bear where he had to do fun stuff like help pump the stuffing into the bear, rub a cutesy artificial heart to put inside it and choosing a name for it.
After that, we decided to go for dinner at Cafe Cartel. Whilst making the birthday boy, me, akat, bearz and elwin queue, Cock, Spud and Nic went off to choose a bag for which to put the bear in. Chaos joined us a little while later
We ate as we waited for the soccer guys to arrive. They were: Ace, Auggy, Malice, Fei, Bob, Emissirx, Kai and Ang (ace's friend). Whilst we waited for the hungry bunch to finish their dinner the rest of us chilled outside the restaurant reminiscing and watching chaos finish his lovely prawn salad. YUM!
The night was still young when we decided to leave for Persepolis, a bar on Prinsep Street, bringing Neth's birthday cake(Swensens) along. The beer flowed and the conversations, light, when our good friend Elwin decided to play a drinking game. It involved putting a coin on a piece of tissue paper that was on top of a glass of beer. Using a cigarette to burn a hole in the paper, the aim was not to let the coin drop into the glass. Whoever that did so would have to drink the beer along with the ciggy ashes and the funny stuff elwin put inside. It was high stakes horizontal Jenga. However the tissue paper proved really strong and elwin had to destroy his life chain-smoking a few ciggies before the coin would drop. Spud had the worst deal as he lost on the final round and had to finish the most awful bit at the end.
When this game ended Ace decided to intro us another game. I don't know what it's called but i shall call it the Woozy F*ck. Woozy because the game surmised on 3 words: Fuzzy Duck, Ducky Fuzz and Duzzy. Makes you woozy. And F*ck because people (like Neth!) kept saying it, revealing his ah beng roots. When we got sick of that game we played another called Bang, where we sexposed elwin's weakness in splash damage games.
After that it was time to cut the birthday cake and sing the birthday song! The cake was a mouth-watering oreo ice cream cake. We took more pictures which you see below! It was at this period where our good friend :)>–< started behaving like he was drunk, falling into the longkang quite a few times and losing his wallet (ninja-ed inside a compartment in his bag). A few of us had to leave then, leaving Bearz, Neth, Elwin, Auggy and Ace who stayed till 2am. A certain someone puked in the toilet and Elwin had to clean up after him. HAI!
It was a wonderful event and we have to thank Bearz for organising it. Also, a big thank you for all that turned up!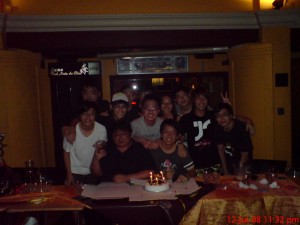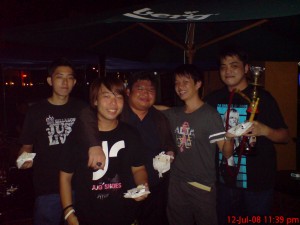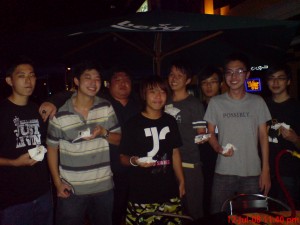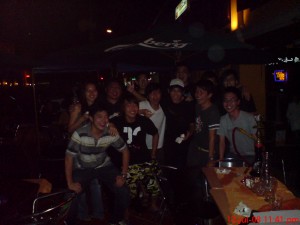 Photos provided by Spud.